This is a review of various Aukey QC2.0 (Quick Charge 2.0) solutions for your mobile devices, USB Turbo Car Charger (CC-T1),
http://www.amazon.com/Qualcomm-Certified-Aukey-Charger-Included/dp/B00LJT2EPK/?tag=vectron00-20
, 3-Ports USB Charging Station (PA-T2),
http://www.amazon.com/Aukey-Desktop-Charging-Station-Included/dp/B00VHHIUNY/?tag=vectron00-20
, and 10400 mAh External Battery quick charger (PB-T1),
http://www.amazon.com/Qualcomm-Certified-Aukey-10400mAh-Supported/dp/B00UBDI7EC/?tag=vectron00-20
For anybody who has the latest Galaxy Smartphone or tablet or other devices supporting Qualcomm's QC2.0 quick charge technology - you know that once you try it the first time, there is no going back to your regular "2A" charger! Yeah, we get spoiled really quickly with a new technology, forgetting that just a few year back 1A charging was groundbreaking. But thanks to companies like Aukey and a few others, we no longer have to depend on a stock wall charger included with our phone, and can expand this luxury to multi-port chargers, car chargers, and external battery chargers I would like to talk about in my review.
Starting with a dual usb car charger, following footsteps of many other companies, Aukey provides a hassle free environmentally safe packaging and a premium 3.3ft 20AWG cable. I thought Choetech offering 22AWG cable was premium, here we have an even thicker cable to handle all your high power needs. 20AWG cable is very hard to find, and a lot of companies don't even specify gauge of wires used in their usb power cables.
The charger itself is very compact, measuring about 2.6" x 1.1" x 1.1" in size and approximately 40g in weight. The design is low profile and doesn't stick out too much from a car's charging socket. I also like how they color code each port which helps to see it clear in the daylight, but unfortunately I was very surprised that ports don't lit up in the dark.
With two usb ports, you get one regular 5V @2.4A to charge anything up to the latest iPad, and the other port with QC2.0 quick charging technology providing either 5V @2A, or 9V @2A, or 12V @1.5A, depending on the power requirements of the device you are charging. I like the option of two ports because often when I take a long trip, QC2.0 will charge up my device too fast and then I'm left with an annoying notification message to unplug my phone. Using a regular port on a long trip while having GPS/NAV and streaming satellite radio creates a perfect balance of charging and discharging rates.
Overall it's a nice solid car charger with plenty of power and support of QC2.0. Also, dealing with a better known company such as Aukey means a trustworthy 18-month warranty. I just wish it would lit up at night, but other than that it has a solid performance.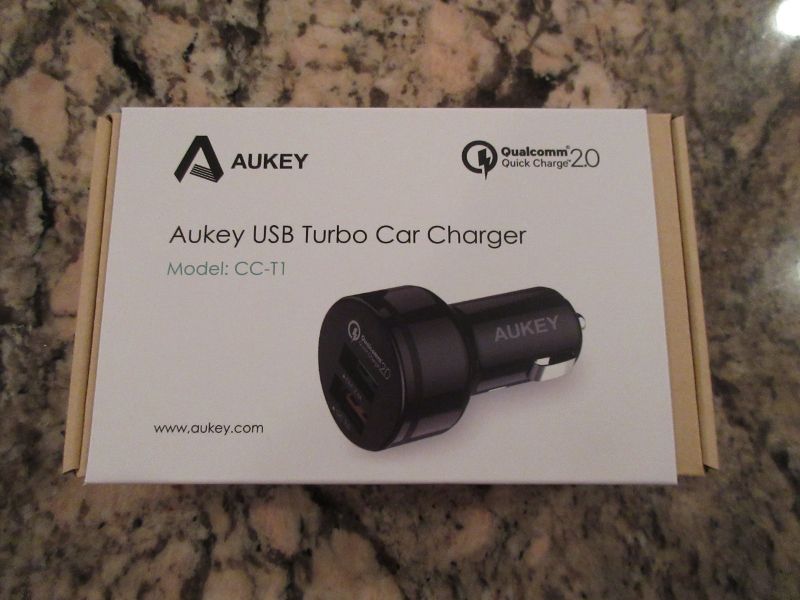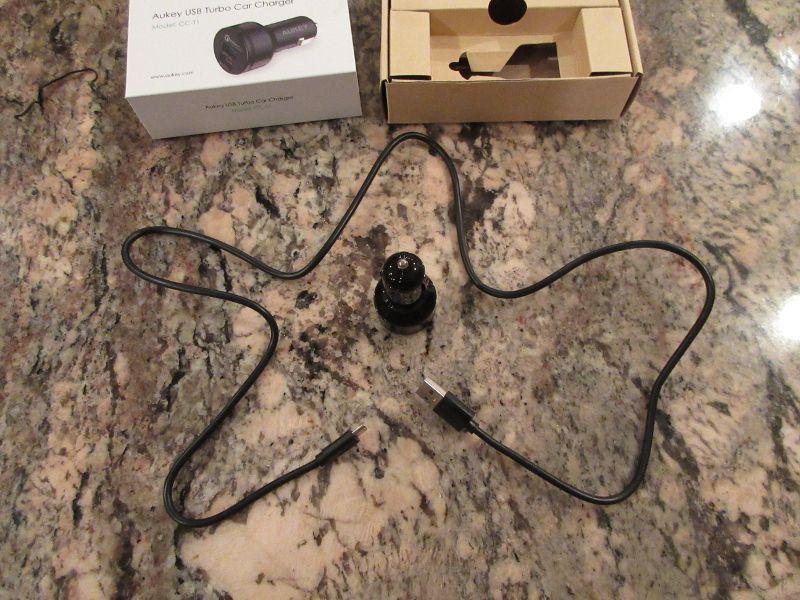 Next is Aukey 3-port usb charger, also delivered in a nice compact environmentally safe packaging box. Again, 20AWG gauge 3.3ft cable was included, and the cable is a pure quality. I just wish they would sell these cables separately, quality cable is very hard to come by.
I have reviewed a number of multi-port usb chargers in the past, but none of them included QC2.0 quick charge port, so this is a big plus for this Aukey charger. What is remarkable about this charger is a compact size with a folding AC plug - ideal for traveling. With a size of about 2.75" x 1.9" x 1" and a weight of only 85g, it has a footprint comparable to some single usb port travel chargers, but here you get 3 charging port with one being QC2.0.
All ports combined could handle simultaneously up to 42W of power, with both regular ports being able to support 5V @2.4A and QC2.0 port supporting either 5V @2A, or 9V @2A, or 12V @1.5A. Now if you do the math it means that you can run all 3 ports at the same time supplying the maximum current speed. With many other multi-port chargers you can only run a few ports at max speed, while others share the remaining current load balance. Here, there are no limitations.
Under $23 with 18 months of dependable warranty and with a travel friendly footprint, this 3 port usb charger with QC2.0 built into one of the ports is a great product to consider when you are looking into a compact smart device charger.