This is a review of MoKo Slim-Fit and Ultra-Slim cases for Nexus 7 HD (2013).
Amazon.com: MoKo Google New Nexus 7 FHD 2nd Gen Case - Slim-Fit Multi-angle Stand Cover Case BLACK (With Smart Cover Auto Wake / Sleep Feature): Computers & Accessories
and
Amazon.com : MoKo Google New Nexus 7 FHD 2nd Gen Case - Ultra Slim Lightweight Smart-shell Stand Case for Google Nexus 2 7.0 Inch 2013 Generation Android 4.3 Tablet, BLACK (With Smart Cover Auto Wake / Sleep Feature) : Touch Screen Tablet Computer Ca
Speaking from experience of reviewing multiple dozens of smartphone cases, you can never have one or a dozen to suite your different needs. But when it comes to small tablets, and based on my experience of owning original Nexus 7, I came to a conclusion that you really need to find that one special case you feel comfortable with in your every day use. From my experience, that one special case was always book-cover type which gave me enough protection with thin yet durable padding, flipped cover for the screen protection with some kind of a latching mechanism to stay close if it's dropped by accident, and auto-wake/sleep feature so I don't second guess if display was left on after my kids were playing their battery draining games. That's how I came across Slim-Fit and Ultra-Slim book-cover cases which I'm sure some of you are already familiar with. Why did I choose MoKo? Because their BSC store on Amazon offers Lifetime warranty and because they were the fastest and the most knowledgeable to get back to me with my inquires. In my book this means a better support and customer care. Plus, lifetime warranty means they have a better quality control.
Starting with Slim-Fit, this design offers a protective hardback cover with exterior that comes in 20 different colors and finishes, including smooth PU leather and carbon fiber, and soft microfiber interior that will protect your tablet from scratches. The fitment of the tablet is very secure, and every port cut out is precise without interfering with port openings, external charging cable or headphone cable, clear view of camera lens and access to power and volume up/down buttons. You also get a great corner protection with this case. The cover has a smart functionality of auto-wake/sleep feature that works flawlessly. Furthermore, the inside of the cover has elastic band and a very comfortable hand-strap for holding the tablet with one hand when front cover flipped all the way back. The narrow elastic band can be used to hook around the corner of the tablet side to keep the front cover from flipping back. A simple design, but very effective when you don't have a flat surface nearby and in the middle of watching a movie or reading a book or browsing internet, etc. I can't even say enough how valuable I find this hand-strap in every day use. But when you are near a table or any other flat surface, the case converts into a convenient two angle stand, great for watching a movie gathered around with friends or maybe looking up that recipe while cooking in the kitchen. While my original Nexus 7 case was smooth PU leather, for HD version I chose carbon fiber finish that adds 3D dimension look. Whatever color or finish you choose to personalize your Nexus 7 HD, for sure Slim-Fit case will be great to protect your tablet and to enhance its usability and functionality.
Here are the pictures.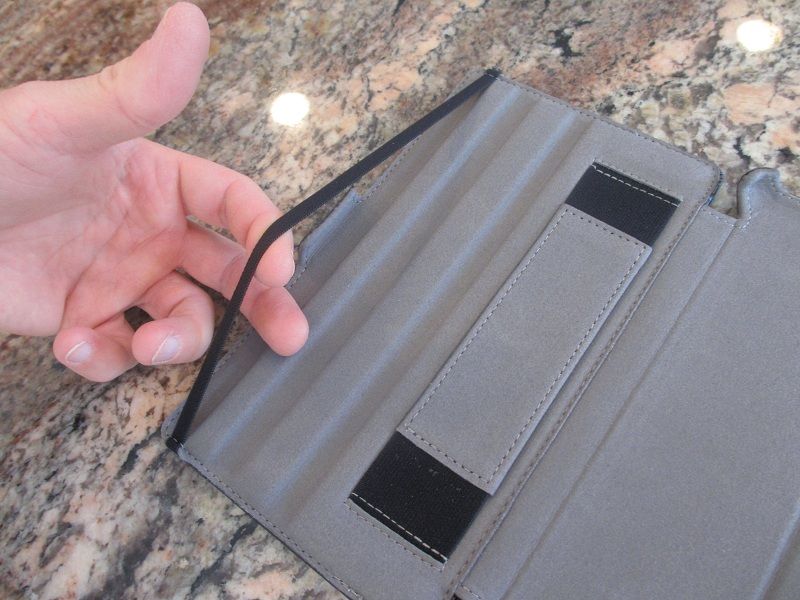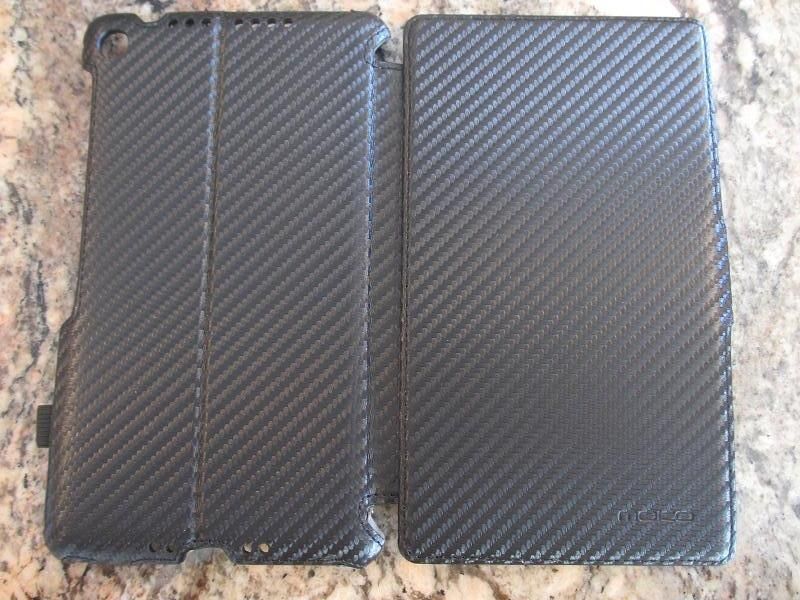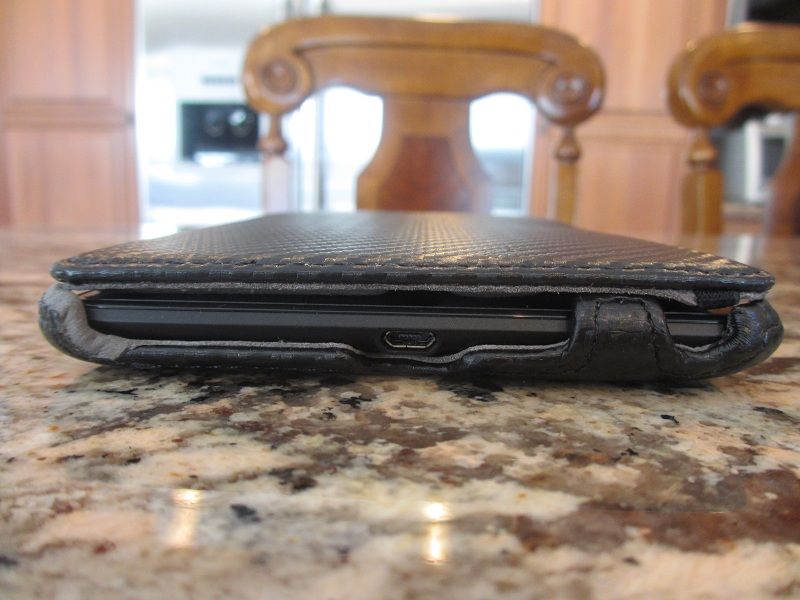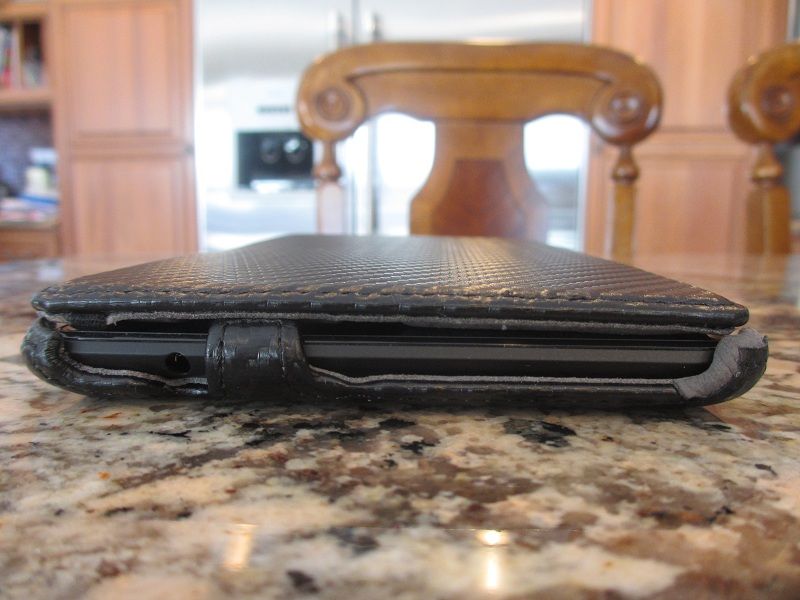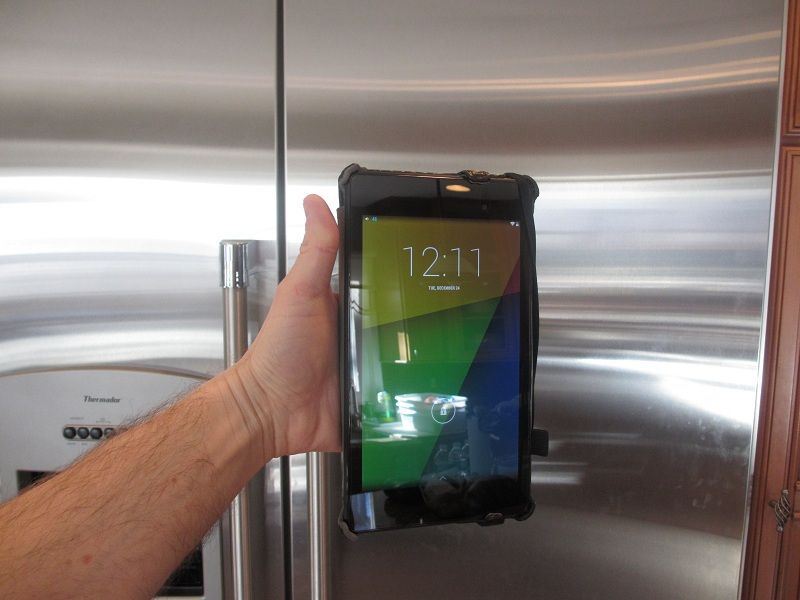 Just like with smartphone cases, some users might actually be looking for cases even slimmer than Slim-Fit, and that's where you find Ultra-Slim to do just that. This smart-shell is very lightweight and still offers a great hardback protection with premium quality PU leather exterior and microfiber interior to protect from scratches. It comes in a wide variety of colors and finishes, and offers a very precise and non obstructive cutouts for the ports, buttons, and the camera. Also, there is an adequate corner protection. The front covers has a magnetic latch which doesn't interfere with tablet functionality. Also, the cover offers the same auto-wake/sleep functionality where screen will be turned off automatically upon closing it. Everything tested to be working great. To keep the case ultra slim, you will not find any hand strap or extra elastic bands. The cover actually tri-folds to form a neat kickstand to use your tablet upright in landscape mode on any flat surface. I also found this tri-fold makes a very comfortable grip to hold your tablet with one hand. This will definitely come handy on the go when you want to use your Nexus 7 as book reader or in any other situation where you want to free up your other hand. As an alternative to Slim-Fit, Ultra-Slim has a very sophisticated slim look and still offers a great protection!!!
Here are the pictures.