Glitter Lake Live Wallpaper immerses you in the enchanting beauty of breathtaking scenic mountains and transparent lakes. Watch as the morning sun rays penetrate through dense evergreen forests on the slopes of mighty mountains. Feel the coolness of the perfectly clear lake that captivates with its unique beauty. With this app, you get access to these mountain live wallpapers completely free, every day and everywhere!
Now you can indulge in meditation enriched with beautiful mountain landscapes and relaxing nature sounds anytime, anywhere. Simply double-tap anywhere on the empty screen to play/pause the nature sounds (very quick double-tap).
This Glitter Lake Live Wallpaper app offers you an unparalleled opportunity to enjoy picturesque mountain landscapes and create an atmosphere of relaxation and harmony on your device. You can customize your own unique decor by choosing from a wide variety of glitter live wallpapers with extensive settings.
By downloading Glitter Lake Live Wallpaper, you'll get more than just wallpapers. It offers you the magic of sparkle and shine to turn your screen into a true masterpiece. For those who appreciate beauty and elegance, glitter live wallpaper creates a unique effect that transforms your device into a work of art.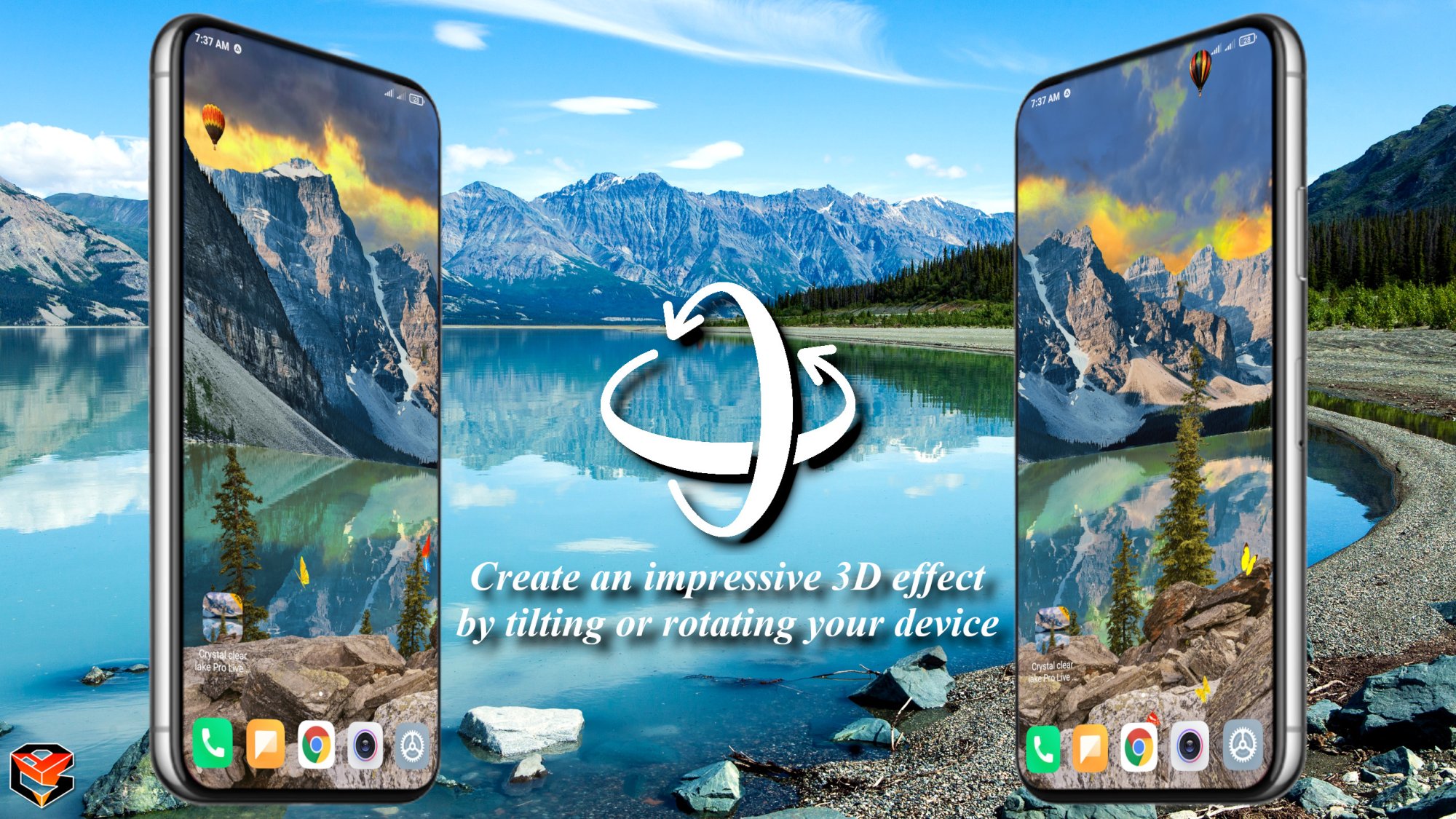 Travel through different times of the day and enjoy the changing atmosphere with Glitter Lake Live Wallpaper. Whether it's dawn, noon, sunset rays, or night, the lighting effects will change throughout the day, giving you a sense of presence in magical mountain landscapes.
Features of Glitter Lake Live Wallpaper:
Detailed settings that allow customization down to the smallest details.
Automatic background change with the passage of time to create a realistic atmosphere.
Enjoy relaxing nature sounds and the singing of nightingales that can be played or paused with a quick double-tap.
Magical flickering fireflies that add a glowing effect to this glitter wallpaper.
Animated sky, clouds, and rainbow that create a unique atmosphere.
Dynamic reflection of the sky in the water, providing a sense of presence.
Moving 3D camera that creates a depth effect.
Animated butterflies flapping their wings, adding liveliness.
Floating balloons softly drifting through the sky.
Shining stars and meteors that add a romantic touch.
Efficient battery usage so you can enjoy this beauty for as long as possible.
High-quality textures for maximum detail.
3D parallax effect that adds depth to the image.
Three types of animated birds for added realism.
Install Glitter Lake Live Wallpaper now and transform your device into a window to the magnificent world of mountains and lakes. Allow yourself to enjoy the glitter, sparkle, and beauty of glitter live wallpaper wherever you are.
Last edited: