Ok I'm sure by now most have read the previous Op about losing half my Teeth, all in the back thank the Gods but still can't wait until I get the fakes bolted in. Sure that will also be an awesome experience, forgot to add that I can't take pain killers either. Anyhow I originally started working on this Mod for personal use and a means of keeping sanity. Because it ended up working out much better than anticipated I decided to share the script. Since then I have made some changes as I first have learned a little bit more and second because it has expanded beyond its original intention of being made specifically for CM7 and optimized in some areas around my own personal device configuration. Because of this I just decided to kind of give things a Reboot.
What does this Mod do you may ask? In short it just makes everything a little better and snappier! How does it go about doing these things you may ask?
In Short,
IPV4 Internet speed Tweaks,
Chainfire Touchscreen Tweaks,
Increased Cache Sizes,
Defrag Database Files On Boot,
Remove Logger,
Running fewer background Processes,
Set's Higher Priority for App's like Phone, Launcher, Contacts, SMS, SystemUI & Camera, (Loopy Smoothness)
Two Sweet Edition Changes (04.28.2012)
Linux Laptop Tweaks for Battery Life
Ondemand, Interactive & SmartassV2 Govenor Tweaks
APK Zipalign (Already performed by most Roms but included for the few that do not)
Many more along the same lines.
Again just so it's clear, I did not develop any of these Tweaks on my own. If any credit should go my way it would be for looking around various websites and inside ROMs for other devices, finding things that look interesting, testing on the Triumph for effectiveness, making minor adjustments if needed and then collecting them into a method that is easy to apply. This should work with just about any Rom with Init.d Support. The easiest way of determining if your Rom has Init.d support would probably be to look at the below directions. If you find an Init.d folder in the spot they say you should then your Rom supports Init.d. It would still be recommended to keep a backup handy as I am not responsible for any damage caused to anything you own.
.
Instructions
(Busybox must be installed, if not, download from the Market)
1, Download 108 Triumph Script.
108 Triumph Script (04.22.2012)
http://www.mediafire.com/file/l8x4pyt1u3wfjck/108TriumphScript
108 Triumph Script Two Sweet Edition (04.28.2012)
http://www.mediafire.com/file/77cd8dzdgzmsar1/108TriumphScript2sweet
If for some reason and I noticed this with Dolphin, .txt has been added to the end of the file name after downloading .text will need to be removed or the Tweaks will not be applied. So far I have only seen this happen with Dolphin but no dots should appear in the file name and should be removed.
2, Place file on your SD-card. (
USB Dropbox, doesn't matter how)
3,
Use Root Explorer or Root Browser Free and move the file into system/etc/init.d folder.
Remember to hit the tab that makes the folder Read/Write as Read Only is the default setting for most File Explorers.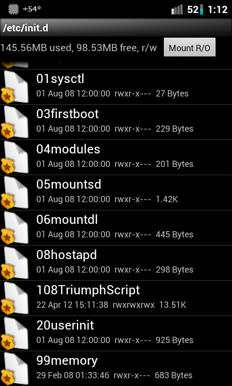 Root Browser Free if you need a free File Explorer.
http://dl.dropbox.com/u/29969403/rootbrowser.apk
3, Give the file full Permissions.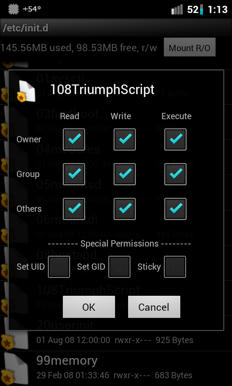 4, Reboot!
(Will take a bit longer to boot and will appear to be held up on the Motorola Logo for a bit. This is nothing to worry about, the script is running and the Tweaks are being applied.)
Clear both Caches in recovery if you have any issues. Should not be needed but have noticed that sometimes Root System Apps like SD-Booster or Auto-Killer when installed before applying the script will restore pre-script values when the restore default settings option in the App is used.
To remove these Tweaks simply delete the file and reboot. To update the file use the file explorer to delete the old version after placing the new version in the init.d folder.
Going forwarded at least for the time being the Build.prop Tweaks can be applied by using the optional Hollyname Script. This was done because to apply these Tweaks correctly as part of the 108 Script with my current knowledge would do either one of two things, permanently add these Tweaks to the Build.prop or make the script Rom specific. Because I'm trying to stay away from having the Mod make any permanent adjustment or have the willingness or time for keeping up with every version of every Rom until I figure a way around the issue they can still be easily applied without making any changes to the Build.prop by following the following.
Another nice thing about doing it this way is that after updating your Rom the script will continue to load the properties as Script Manager is on the data partition so you would not need to manually add these to the new Build.prop as long as data is not wiped. .

Additional Build.Prop Tweaks
(Recommended)
1, Download Hollyname Build.Prop Tweaks Script and place on SD-Card.
Hollyname Build.prop Tweaks (04.22.2012)
HollynameBPTweaks
Hollyname Build.prop Tweaks Two Sweet Edition (04.28.2012)
HollynameBPTweaks2sweet
2,
Install Script Manager Free from the market.
3,
Open Script manager and select the script.
4,
Select SU, Boot and then save.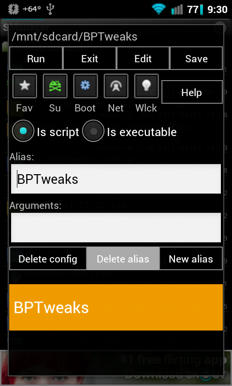 5, Reboot!
(All Build.prop Tweaks will now be applied during each boot unless un-selecting the option in script manager or deleting the script from the SD-Card.
This will not make any actual changes to your Build.prop.
Nor will it effect any properties associated with Market Access.
You Can run "getprop" in either ADB or a Terminal to confirm all current property values if not sure everything was done correctly. If so you should now see the following included among the listed properties,
debug.sf.hw 1
dalvik.vm.heapsize 48
persist.sys.ui.hw 1
ro.max.fling_velocity 12000
ro.min.fling_velocity 8000
ro.ril.disable.power.collapse 1
pm.sleep_mode 1
windowsmgr.max_events_per_sec 150
ro.media.enc.jpeg.quality 100
ro.media.dec.jpeg.memcap 8000000
ro.media.enc.hprof.vid.bps 8000000
media.stagefright.enable-player true
media.stagefright.enable-meta true
media.stagefright.enable-scan true
media.stagefright.enable-http true
net.tcp.buffersize.default 6144,87380,1048576,6144,87380,524288
net.tcp.buffersize.wifi 524288,1048576,2097152,524288,1048576,2097152
net.tcp.buffersize.umts 6144,87380,1048576,6144,87380,524288
net.tcp.buffersize.gprs 6144,87380,1048576,6144,87380,524288
net.tcp.buffersize.edge 6144,87380,524288,6144,16384,262144
net.tcp.buffersize.evdo_b 4096,87380,256960,4096,16384,256960
ro.kernel.android.checkjni 0
ro.kernel.checkjni 0
debug.performance.tuning 1
video.accelerate.hw 1
dalvik.vm.dexopt-flags v=n,o=v
persist.adb.notify 0
wifi.supplicant_scan_interval 180
ro.config.disable_hw_accel false
ring.delay 0